Duane & Darlene Horning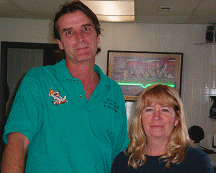 Horning's Pet Grooming & Boarding is a family owned and operated business. We are a full service, all breed dog and cat grooming and boarding facility set on 5 1/2 acres of quiet country heaven. We have been providing professional dog and cat grooming as well as boarding at this location since 1995 and we are veterinarian recommended. The owner, Darlene, has over 25 years experience in the pet grooming industry and we have a devoted staff of 8 animal loving pet professionals that have been with us a combined total of 43 years. We assure you that you won't find another establishment with the experience Horning's has to offer.
Hi everyone.
The Akron Canton Hot List contest is up & running again. Last year, with your help, we came in 1st place in both Pet Grooming and Boarding. The exposure this gives us is tremendous. This year we need your help again to keep us #1. Remember you can vote twice, once in Grooming & once in Boarding, plus every member of the household can vote! Just click on the links here and that will take you right to the page to cast your votes.
Please Remember you need to cast two votes, once in both categories.
Thank you,
Duane & Darlene Horning & Staff
Our grooming and boarding facility is fully heated and air conditioned and we live on the premises for added peace of mind. We are open 7 days a week by appointment and to better serve you and pet pick up and delivery service is available.
Unlike many grooming and boarding shops, we encourage communication between you and our grooming and boarding staff. You can speak directly to our groomers before and after their groom and also discuss how your pet did and talk to you about your pet's experience. We do not use tranquilizers.
Your pet will never come in contact with another dog or cat. Some facilities offer co-mingling as a benefit to your pet, and it may sound good at first but it's a dangerous practice. Here at Horning's each pet gets there own individual time and attention in a safe comfortable environment.
We are large enough to give you quality, professional service and small enough to care. You shouldn't have to worry about your pet while they are getting groomed or you're on a vacation or family trip. Our focus is on your pet, their care and well being at all times.
Pickup & delivery available
Our professional dog grooming services have that same family orientated feeling. We know you love your dog and we want you to feel at ease while your dog is groomed. Shampoos and conditioners are used to meet your dog's needs, and there is no additional charge for oatmeal treatment, flea treatment or doggy facials to remove staining on face. We know you are busy, so we will pick your pet up, get his hair cut and return him to you clean and fresh. Just need nails clipped $5.00, no appointment needed, just call ahead to make sure we're there and we'll stop what we're doing and clip their nails.
We are open 7 days a week by appointment to better serve you and pickup and delivery service available. Darlene has 25 years experience grooming animals and is a pet lover as well. Your dog is in good hands with Hornings.
Family owned and operated since 1995
Large enough to give you quality, professional service and small enough to still care. Pets we board are housed in large heated and cooled indoor kennels with individual playtime every evening at no extra charge. There is no extra charge to administer medications to your animal while they stay and we live on the premises for peace of mind. Our boarding services are veterinarian recommended and we always provide individual care for each dog and cat staying with us.
Why should you worry about your pet while on vacation or trips? We can provide them the love, attention, care and interaction they need to feel at ease. Our focus is on your pet, his care and well being at all times.